Nathanael Greene
---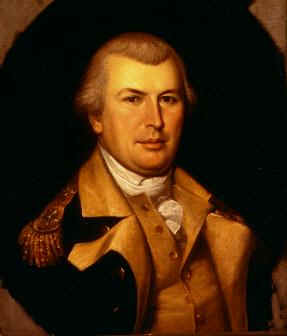 Nathanael Greene. 1742-1786. Continental officer (Maj. Gen.), forge owner, b. Potowomut (Warwick), R.I.
Brigadier general, 1775; major general, 1776; responsible for the loss of Fort Washington, N.Y., 16 November 1776; after that disaster, distinguished himself at Trenton, commanded a division at Brandywine, and led the column making the main effort at Germantown; quartermaster general 1778-1780; commanded the Southern Department, 1780-1783; reputation was built on driving the British out of Georgia and the Carolinas in a strategically successful campaign devoid of tactical victories; turned what seemed to be a retreat into victory by forcing the British to chase him into Virginia in the race to the Dan River, with subsequent battles at Guilford Courthouse, N.C., 15 March 1781, and Hobkirk's Hill, S.C., 25 April 1781, the siege of Ninety-Six, 22 May - 18 June 1781; and Eutaw Springs, S.C., 8 September 1781; returned to besiege Charleston, S.C., the only remaining British stronghold in the south; generally considered most distinguished American commander of the war, after Washington, whose most trusted subordinate he was.
Before the war Greene a private in the Kentish Guards.
from:
Dupuy, Trevor N. and Gay M. Hammerman. People & Events of the American Revolution. Virginia: T. N. Dupuy Associates, 1974.
---
To return to Tew's Company page.
---
fredra@comcast.net last modified 5/30/03
---